2021-2022
This page is related to the Acoustics part of the Vibrations and acoustics MECA-H-411 BRUFACE course. For the Vibrations part, please visit Arnaud Deraemaeker's page.
Contact
Jean-Louis Migeot
+32 477 61 72 52
Resources
Textbook in French
Textbook in English
A set of videos in English presenting most of the book's content.
The slides used during each lecture (see Schedule section).
2019-2020 Powerpoint set in English: the course being now organized differently, the slides are no longer presented as such. You may use them as an alternative to the textbook and videos but I do not warrant their compatibility with the 2022-2023 course content.
ACTRAN is a software used during the exercise sessions and for the project.

Here is a link to the web page where you must register to gain access to the  ACTRAN Student Edition
A safety download link *** to be used only if the standard download procedure failed  *** will be posted soon.
ACTRAN must be installed on your own Windows laptop before October 28.
ACTRAN is also available on the desktops of the UB4 PC rooms
Schedule
Lectures (9×2 = 18h) :
Room S.R42.4.502 (Solbosch Campus, Solvay Building, 4th floor, room 502)
20.09 (08:00-10:00), 04.10 (08:00-10:00), 11.10 (08:00-10:00), 18.10 (08:00-10:00), 25.10 (

10:00-12:00

), 08.11 (08:00-10:00), 16.11 (08:00-10:00), 23.11 (08:00-10:00)
Exercises = preparation for the project (3×2 = 6 hours):
Rooms  to be confirmed
28.10 (16:00-18:00), 10.11 (08:00-10:00), 17.11 (08:00-10:00)
Project (3 x 4 = 12 hours):
To be performed at home, alone or in groups of up to four students, between November 17 and December 20.
On December 21st, from 08:00 to 10:00, an optional written control on the outcome of the project will be organized. Students who have a mark of 10 or more may elect not to discuss the project during the oral exam in January or August. Their mark at the written optional control will then be used in calculating the overall mark (40% acoustics, 20% vibrations and 20% project).
2020-2021 Archive

Important errata
The correct figure 18.1 is given below. The low and high damping curves were incorrectly labelled.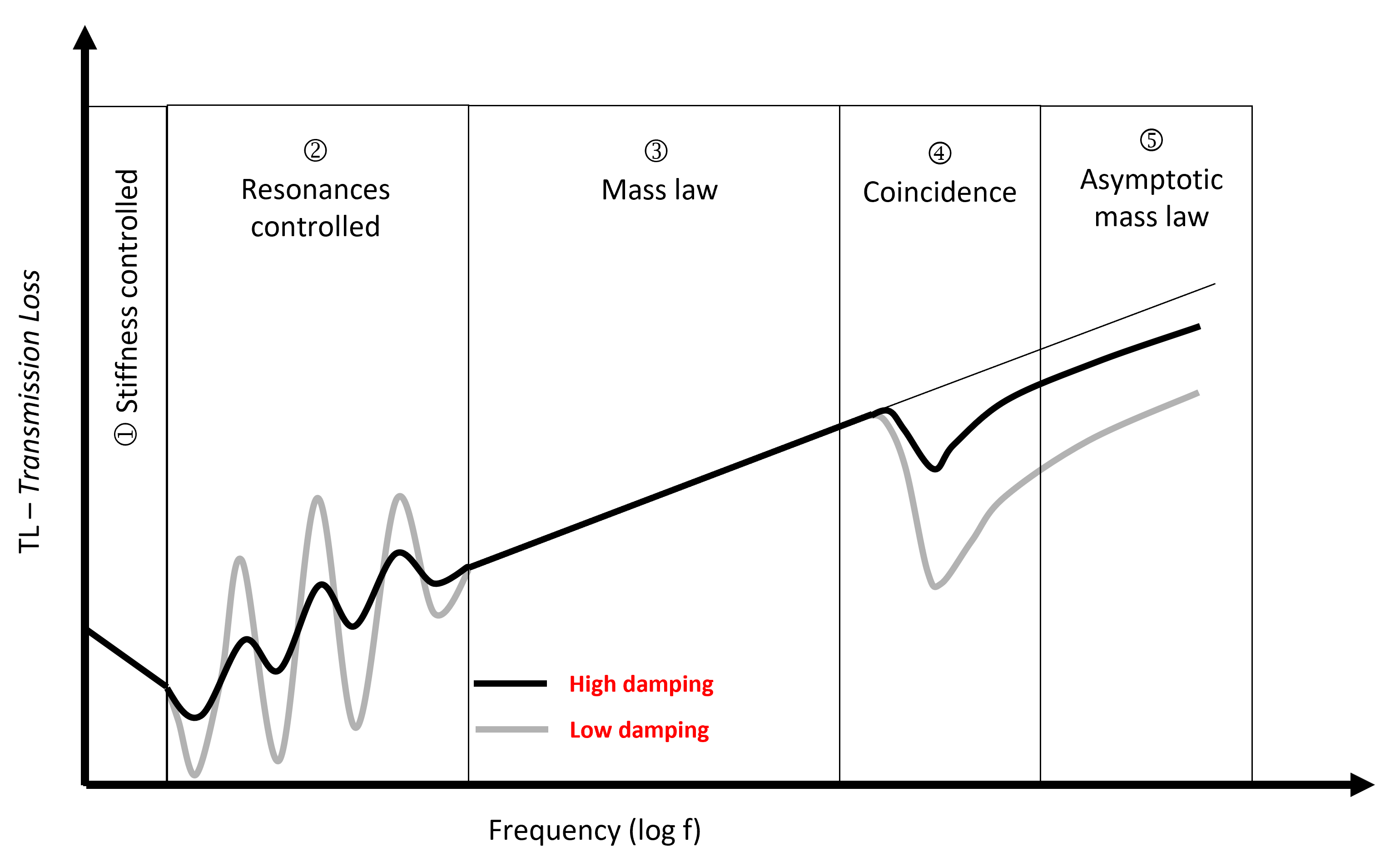 Oral exam
The exam dates are January 26 to 28, 2021. Here is the question list and a description of exam modalities.
THREE VERY IMPORTANT REMARKS AFTER RUNNING A TEST EXAM:
Since you have a defined list of questions to which short answers are expected, you are not allowed to use any type of notes while preparing your answers. To be explicit: no hand written notes, no printed material, no annotated slides, nothing.

The available time does not give me the possibility to give you any hint, ask for details or try to tease you into giving the appropriate answer. I would like to but I just can't do it in 15 minutes. You will therefore be evaluated based on what you say, no more, no less. While preparing your answers, calibrate them so that you can say everything that is relevant to a question in two minutes. I will ask you to leave me your preparation notes; I will review them after the exam and they may affect (positively) your note.


The same applies to the project: convey your message in 5 minutes and leave me your supporting documents. It would help if you were summarizing your work in a one page document that I can review again after the oral examination.
Q&A sessions
I will be available for questions about the course and the project on the following dates in the Paduart room (Solbosch, C Building, 4th floor, BATIR department)  from 2PM onward on the following dates:
16.12.2021 – CANCELLED (no participant)
20.12.2021
21.12.2021
24.01.2022
25.01.2022
Please note that:
I will come only if at least one student has sent me an e-mail stating that he/she will come to raise questions or discuss some topics.
I will leave as soon as the last question is answered … don't show up at 4:30PM … I will most probably be gone.
ACTRAN Project
The afternoon sessions foreseen from week 10 onward (starting on November 15th) are « non-presential ». This is time that is available for you to perform the ACTRAN project whose results must be presented at the oral exam in January.
Here are detailed explanations about the project, about the help you can get from the ACTRAN team. The link also contains all the files required to run the project.
What do I expect from your presentation at the exam:
a perfect understanding of the results produced by ACTRAN making adequate reference to the theory of chapter 17;
the presentation of relevant variants of the original model and an ability to explain how the change in such and such input parameter modifies the results.
The project can be made in groups. It seems that 4 students is a reasonable group size.
Video set and accompanying material
Tuesday September 21st,2021
000 – Introduction to the video series – Video 0210 – Definitions – 7'45 – Textbook: section 2.1

If you wonder when sound has a lasting effect on the propagation media and what kind of effects, watch these two videos on acoustic cavitation and lithotripsy

Video 0220 and Video 0220b– Scope of acoustics – Textbook 2.2, 2.3  and 4.2
Video 0240 – Relevance of acoustics – Textbook: section 2.4
Friday September 24th, 2021 – Exercise session 1
Dynamics of the single degree of freedom system (SDOF) using MATLAB
Tuesday September 28th, 2021
Friday October 1st, 2021 – Exercise session 2
The ACTRAN acoustic and vibro-acoustic finite element software will be used (1) in some of the future exercise sessions and (2) for the project.
This session will be dedicated to a presentation of the general working principles of ACTRAN and in assisting the students in installing the ACTRAN software on their own laptops.
ACTRAN Introduction presentation
Tuesday October 5th, 2021
There is no specific acoustic content for this session (see Arnaud Deraemaeker's e-mail of October 1st).
Friday October 8th, 2021 – Exercise session 3
Dynamics of multi-degrees of freedom systems (MDOF) using MATLAB
Tuesday October 12th, 2021
Three reminders/clarification on SDOF and MDOF. This essentially duplicates things covered in the dynamics part of the course:

Video 0901 – Three ways to look at SDOF resonances – Not in textbook
Video 0902 – The 2-DOF system and its two resonances – Not in textbook
Video 0903 – Dynamic analysis in the modal space – Not in textbook

Video 0410 – Hypotheses of linear acoustics – Textbook 4.1
Videos 0430 and 0430b – d'Alembert solution (1D waves) – Textbook 4.3 and 4.4 (sections 4.5 and 4.6 are suggested as additional reading material)
Video 0440 – Mechanics of propagation – textbook 4.4.
There is no video on chapter 5 (Fourier analysis) because the basics of signal processing, Fourier series and Fourier transforms are assumed to be known. Please read chapter 5 or look at the corresponding slide set if you need a refresher. We'll do some exercises in the classroom to get everyone up to speed on frequency domain analysis … which will be used throughout the course !
Acoustics in the frequency domain:
Friday October 15th, 2021 – Exercise session 4
Dynamics of continuous systems (plates) using ACTRAN
Tuesday October 19th, 2021
Video 0650 – Plane waves in the frequency domain – Textbook 6.5.
The decibel scale
Video 0911 – Acoustic resonance of a closed duct excited by a piston – 07'39 – Textbook 9.1.1.

For fun: Speaking on Helium
We'll calculate acoustic modes under different boundary conditions in the classroom – Textbook 9.1, 9.2 and 9.5.

Video 904 – An introduction to continuous systems and their resonances – 12'43 – Textbook 9.1.1. – This duplicates info from 013 but also makes an explicit link between the dynamic analysis of continuous systems and acoustics.
Friday October 22th, 2021 – Exercise session 5
Resonances of acoustic cavities with ACTRAN
Sound transmission through a silencer (muffler) with ACTRAN
Files:

PDF presentation of the two workshops
Powerpoint presentation about various aspects of ACTRAN relevant for the workshops
Data files
Tuesday October 26th, 2021
Debriefing of the exercise session of last Friday
Introduction to vibro-acoustics

Video 0710 – 1d models
Video 0720 – Matrix theory of vibro-acoustics
Here is the slide deck that will be presented in the classroom

Transmission and insulation
Friday October 29th, 2021 – Exercise session 6
Session 6 content
Sound transmission through a plate using ACTRAN
Plate-cavity coupling (Step 0 of the ACTRAN project – Pay attention !)
Tuesday November 2nd, 2021
No lecture – Recovery week
Tuesday November 9th, 2021
Reflection, absorption and room acoustics
Wednesday November 10th, 2021
Dynamics only – No acoustics content
Wednesday November 17th, 2021
Radiation, scattering and refraction
Guided propagation:
Wednesday November 24th, 2021
Wednesday December 1st, 2021
Dynamics only – No acoustics content
Wednesday December 8th, 2021
Dynamics only – No acoustics content
Wednesday December 15th, 2021